Basketball this week: Wednesday is home vs. Terry starting at 4:30 half JVG, 5:30 VB, and 7 VG Thursday is away at Ekalaka (bus time 8AM) with ALL teams playing at 1, 230, 4, and 530 (boys play first)

Plevna at Jordan basketball results (varsity only): boys win 62-20 and girls win 57-28... next game is home with Terry on the 22nd. Then away at Ekalaka on the 23rd.

Basketball results from last night at Hysham: JVG win 44-12, VB lose 60-54, and VG win 58-19... Quick night tonight at home with Plevna as only varsity plays. Come on down to the gym for 4PM varsity boys and 5:30 varsity girls!

Basketball this week: Friday all teams except JVB play in Hysham (bus time is now 11AM)... 4PM JVG, 5:30 VB, and 7 VG Saturday is home with Plevna (varsity only). VB play at 4 and VG at 5:30

Broadus at Jordan for first home high school basketball! JVB lost 44-16... JVG lost 27-28... VB lost 45-61... VG won 39-27. Fun night against a competitive Broadus basketball program. Next game is at Custer/Hysham on the 17th with all 4 teams starting at 3PM. Next home game is vs. Plevna on the 18th varsity only. Have a good rest of your weekend and enjoy Winter Formal tomorrow night!

First home high school basketball games this Friday vs. Broadus! (Remember all conference games will have boys playing first all season) Game order: JVB 2:30, JVG 4, VB 5:30, VG 7PM

Updated 21-22 Jordan Basketball schedule! Some minor changes with updated JV teams and a couple half JV games. NCTS cancelled their season and next Saturday vs. Broadus was cancelled. Remember, ALL conference games will be played with boys first and girls last this year. We're in the talks of 2-4 more JV games that are not finalized but will be announced soon.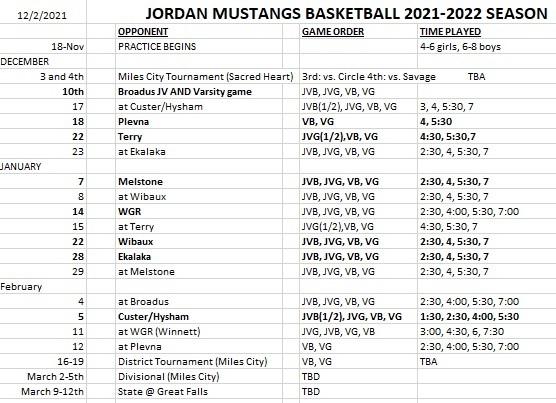 Shamrock Shootout Basketball Tournament - December 3-4th at Sacred Heart Gym... All teams play one game on both Friday and Saturday. Please try to attend if possible so Sacred Heart continues to host this beneficial tournament. FRIDAY (bus time 7AM): JVB at 9:30 vs Ekalaka, JVG at 12:30 vs Circle, VB at 3:30 vs Circle, and VG at 5 vs Circle SATURDAY (bus time 8:30AM): JVG at 11 vs Ekalaka, JVB at 2 vs Savage, VG at 6:30 vs Savage, and VB at 8 vs Savage

Fall Sports Awards: -Volleyball: Lindsay Lawrence, Sophie Kreider, and Lacey Lawrence made All Conference. Lindsay and Sophie also made All State. Congrats ladies and the coaches and teammates around them for making this possible! -Football: Walker Colvin made All Conference and All State in another competitive eastern conference with Froid/Lake winning state. Great job to the teammates and coaches on your hard work! Looking forward to a basketball season that should provide more talented student/athletes!

High school basketball parent meeting 4:30 on Wednesday. Practice starts Thursday the 18th with girls early practice, boys late. Junior high bball plays Friday at 11:15 (boys) and 12:30 (girls) down in Sacred Heart (bus time 9AM). Please see the attached brackets for the tournament schedule. A win means a Saturday morning game, a loss means the season is over.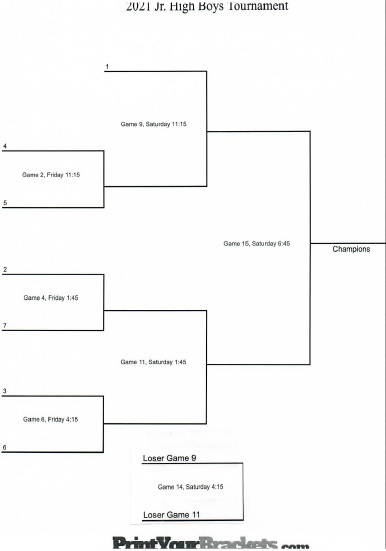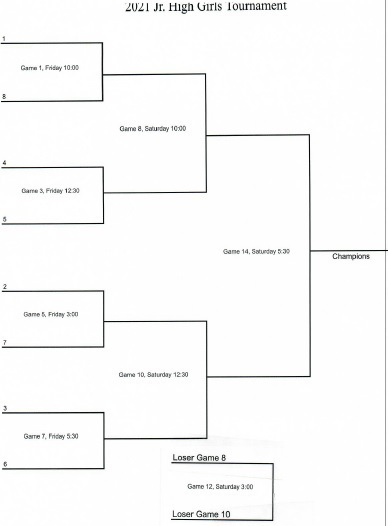 Broadus at Jordan JHbball results: Bgirls lost, Bboys lost, Agirls 24-23 win, Aboys 44-36 win... So cool to watch these student/athletes progress throughout the season, they've come a long way since mid October. Next game is tomorrow with a CHANGED BUS TIME TO 8AM going to Ekalaka. Games start at 1PM with Bgirls, then Bboys, Agirls, Aboys

JH Basketball this week: Friday home vs. Broadus: start 2:30 Bgirls, Bboys, Agirls, Aboys *we need refs for the first B girls game at 2:30. Please help so it is not cancelled (ref pool couldn't make it over that early). Saturday away at Ekalaka (bus time 9AM): start 1PM Bgirls, Bboys, Agirls, Aboys Sacred Heart tournament next week! Brackets will be posted early next week when rankings are set

Jordan loses to Froid/Med Lake for the 3rd place match. 3rd place overall in the Eastern C is quite an accomplishment, well done ladies. We are all proud of the season you all had. Great work coaches and players!

Another 5 set match tonight, same outcome with Jordan winning over Circle 9-15 in the 5th set. Lady Mustangs never quit, wow! Next match vs. Froid/Lake at 10AM, can hardly wait

Of course Jordan vs. Broadus goes 5 sets. Jordan wins the 5th set 15-9!!! Showing great resilience ladies, well done. Next match is tonight at 8PM, be there or watch on NFHS

Tough late night game against a strong Froid/Med Lake. Jordan lost 3-1 but is not done. Next match is 2PM Friday vs. the winner of Savage/Broadus.

Volleyball wins against Culbertson, 25-15, 25-12, and 26-24! Nice work Lady Mustangs! Next is Froid/Lake at 8PM, get a quick nap in now so you can watch!

Jordan sports this week: Volleyball in Sidney HS on Thursday at 4PM vs. Culbertson (bus time noon, pep rally 10AM)(see attached filled in bracket) JH basketball: Friday at Broadus (10AM bus time) 2:30 pm - Girls B, 3:45 pm - Boys B, 5:00 pm - Girls A, 6:15 pm - Boys A Saturday is home vs. Terry starting at 1PM Bgirls, 2 Bboys, 3 Agirls, 4Aboys.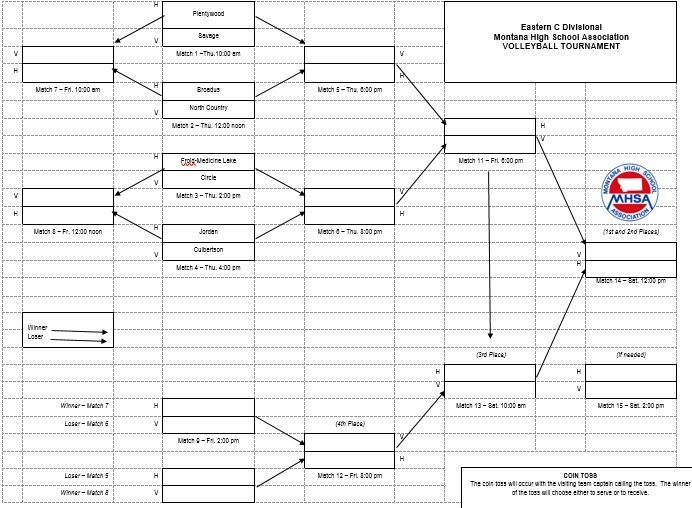 JH basketball vs. Ekalaka: Bgirls win, Bboys win, Agirls 25-51 loss, Aboys 41-43 loss... Fun evening of basketball, seeing lots of improvements week by week! Next game is in Broadus on Friday the 5th (probable bus time is 10:30 with all 4 teams playing starting at 2:30).

Volleyball update for Divisionals in Sidney: We have an idea of next week but will post more on Monday. It is a 3-day tournament starting for Jordan on Thursday the 4th at 4PM in Sidney (tentative bus time noon). Sorry for the quality of the bracket picture as Facebook won't allow documents attached.